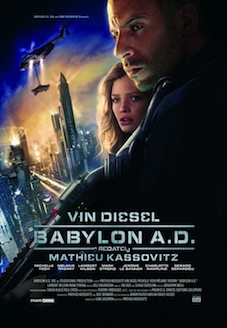 Engelsk titel
Babylon A.D.
Regissör
Mathieu Kassovitz
Manusförfattare
Mathieu Kassovitz, Éric Besnard,
Novel by Maurice G. Dantec ("Babylon Babies")
Producent
Alain Goldman, Mathieu Kassovitz
Kort synopsis
The film is set in an anarchic landscape in 2058. Hugo Toorop, a former smuggler and now a mercenary, is approached by a Russian mobster, named Gorsky, who instructs him to bring a young woman to New York City. During the trip, the teen demonstrates unusual powers and knowledge, and Toorop learns about her mysterious past.
Veteran-turned-mercenary Toorop takes the high-risk job of escorting a woman from Russia to America. Little does he know that she is host to an organism that a cult wants to harvest in order to produce a genetically modified Messiah
Rollista
Vin Diesel, Michelle Yeoh, Mélanie Thierry, Gérard Depardieu, Charlotte Rampling, Mark Strong, Lambert Wilson, Jérôme Le Banner
Linjeproducent
Marc Jenny, Kevan Van Thompson
Samproducent
Selwyn Roberts, Benoît Jaubert, Avram 'Butch' Kaplan, Selwyn Roberts, David Valdes
Samproduktionsbolag
M6 Films, MNP Entreprise, Okko Productions, Studio Canal, Twentieth Century Fox Film Corporation
Distributör
Twentieth Century Fox Film Corporation