Warning
: Use of undefined constant EVOL_ENV - assumed 'EVOL_ENV' (this will throw an Error in a future version of PHP) in
/srv/users/serverpilot/apps/filmpoolnord/public/wp-content/themes/filmpoolnord/single-filmarkiv.php
on line
2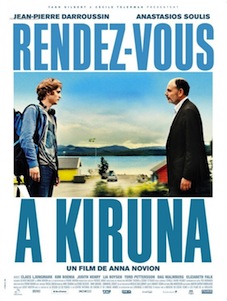 Titel
Rendez-vous á Kiruna
Engelsk titel
Rendez-vous á Kiruna
Manusförfattare
Olivier Massart, Anne Novion
Producent
Yann Gilbert, Cécile Telerman, Patrice Arrat
Kort synopsis
Ernest, a famous architect, lives only for his work. One day, he receives a call from the Swedish police, which makes him decide to travel far away to Kiruna, in Swedish Lapland. He must go there to identify the corpse of a perfect stranger, the son that he's never known.
He crosses paths with Magnus, a young, sensitive man who is the total opposite of the authoritarian and suspicious Ernest. This journey in the company of a possible son will reveal to Ernest an unknown part of himself and help him come to terms with the meeting in Kiruna.
Rollista
Jean-Pierre Darroussin, Anastasios Soulis, Claes Ljungmark, Kim Bodnia, Judith Henry, Lia Boysen, Tord Peterson, Dag Malmberg, Elisabeth Falk, Adrien Bretet, Caroline Mathieu ....
Produktionsbolag
La Mouche du Coche Films
Samproduktionsbolag
Les Films de la Greluche (co-production)
Région Ile-de-France (support)
Centre National de la Cinématographie (CNC) (support)
Cinémage 6 (in association with)
Distributör
Pyramide Distribution (2013) (France) (theatrical)