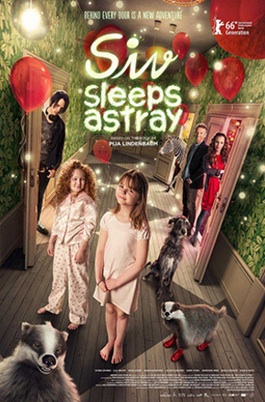 Engelsk titel
Siv sleeps astray
Regissör
Catti Edfeldt & Lena Hanno Clyne
Manusförfattare
Based on a book by Pija Lindenbaum
Lena Hanno Clyne, adaption
Thobias Hoffmén, adaption
Fotograf
Gabriel Mkrttchian
Kort synopsis
Swedish premiere 30th September 2016.
Siv is fascinated by the appearance of a new classmate, Cerisia. Cerisia is dressed differently and has opinions. When Cerisia asks Siv to sleep over at her place, Siv is very happy. Perhaps Cerisia wants to be her friend. Siv does not have a best friend.
The sleepover turns out differently than expected. The flat has too many doors and smells odd. When Siv wakes up in the middle of the night, she decides she wants to go home immediately. But where is Cerisia? She is not in her room and Siv ventures into the rather dark and silent flat to find Cerisia.
Oddly enough, the flat has changed. Doors have become really small or really large, wallpapers look different and move. The keys in the wallpaper pattern have disappeared! Or, have they been transformed into real keys? That can open doors?
Siv starts opening doors and in the company of two very talkative badgers in red wellington boots she has one adventure after the other.
Rollista
Astrid Lövgren
Lilly Brown
Produktionsbolag
Snowcloud Films AB
Samproducent
Per-Erik Svensson
Samproduktionsbolag
Viking Film (co-production)
Sveriges Television (SVT) (co-production)
Filmpool Nord (co-production)
Gilda Film AB (in association with)
Saperi Film (in association with)
Distributör
Svensk Filmindustri (SF) (2016) (Sweden) (theatrical)
Twin Film (2016) (Netherlands) (theatrical)